Casino Knokke - Attraction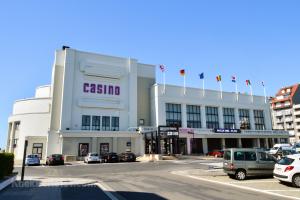 Who mentions casino, automatically thinks of a gambling hall. Of course in Knokke you can play like any other Casino in the world: American roulette, Black Jack, Caribbean Stud Poker and you can try your luck at one of our slot machines.
But the casino has much more to offer. There's a lively atmosphere throughout the whole year, and you enjoy the most diverse activities. The Mascotte restaurant, situated within walking distance from the gaming tables, offers plenty of gastronomical possibilities. If you also want to enjoy the nightlife, you can go all out during the weekend and vacation periods in night club Prince and Zuri.
Furthermore Casino Knokke is near the following sights: Cultuurcentrum Scharpoord (±600 m), Royal Zoute Golf Club (±1,5 km), De Zes Bochten (±1,6 km), Sincfala (±2,4 km) & Marie Siska (±3,0 km).
For information:
Zeedijk-Albertstrand 509, Knokke-Heist
tel. +32 506 305 00
web.
Website