Badersstraat 3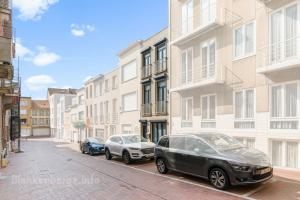 Badersstraat 3 Terraced house with 3 bedrooms on floor This holiday home is ideally located within walking distance of the seafront, restaurants and the market. Nice and cosily furnished house with 3 bedrooms, two with a double bed and one with a bunk bed. Sofa bed in the living room. Bathroom with shower. Highly recommended for a perfect holiday! Layout: Ground ...
Max. 8 personen.
Bedrooms: 3.
Beach distance: ±200 m.
Beaufort Blankenberge
Magnific Holiday Home in Blankenberge Near Beach On the harbor of Blankenberge and within walking distance of the beach, this is a 9-bedroom holiday home for up to 20 guests. It has a professional kitchen and a shared living space with views of the marina where you can enjoy a meal and a get-together in peace. A large family or several families holidaying together will ...
Max. 20 personen.
Bedrooms: 9.
Beach distance: ±300 m.
honden allowed after consultation.